Stage 4: Landscape Design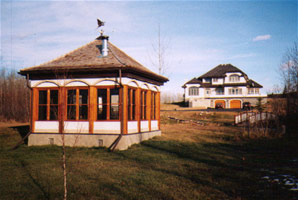 For a complete, well done design, no building should be considered separated from its site. The approach and surroundings are equally important. A landscape plan therefore should be integrated with the house plan showing planting areas, swimming pool, garage, driveway and any other exterior features. The composition of the landscaping provides the "setting" for the house just as a gold backing presents a precious stone jewel.
The client must determine what items are to be included in the contracted price. The site plan, already started, should be finalized with driveways, patios, parking areas and finished grades including the extent to which the existing grades are to be changed. Any site furniture such as fences, gates and railings should be located. A landscaper may be called upon to provide the exact specifications for planting and other landscaping components.
Next page: Specifications