Stage 3: Interior Design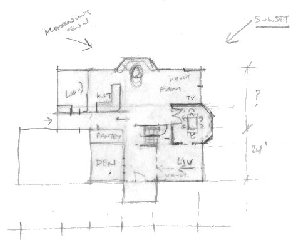 Kitchen and bathroom plans are examined carefully along with any room or space that has special design features or requirements. Attention is given to fireplace design, wall paneling and window and door details. During this stage the client will be collecting all relevant fixtures and fittings, hardware, lighting, window manufacturer, door types, kitchen cabinetry and flooring materials. Every item that is to be included in the price of the house must be assembled.
At this point the drawings will be continued with interior elevations at 1/2" scale of rooms such as bathrooms and kitchens to show the exact location of tiles, mirrors, shelves and other details. A bathroom alone for example contains a multitude of items that must be located. The location and size of baseboards, chair rails, and picture rails may also be located. The main issue at this stage is to know the size and location of everything, much as was carried out for the main structure in stage 2. In addition to the interior drawings, a schedule of window, doors and finishes is prepared. More important than knowing what the colours will be, is knowing what types of finishes are gong to be used. Will the door to be painted, stained or glazed? If it is glazed, the size and type of glazing must be determined. Towards the end of this stage furniture layouts must also be checked so that the final electrical layout can be prepared. Careful consideration is given to every light switch and plug outlet with regard to convenience and the location of furniture.
In this stage there is quite a bit of work for the client. They must give consideration for all the little items that they care about and that will often affect them the most on a day-to-day basis.
While a reasonable builder will not leave out the toilet paper holder, there are many to choose from and a discriminating client will want to do a certain amount of shopping before they find what they want. If this is difficult to do at this stage or becomes too time consuming, a cost allowance will be allowed by the contractor so that the client can purchase these items at a later date.
Next page: Landscape design