Peter Leighsmith's Professional Background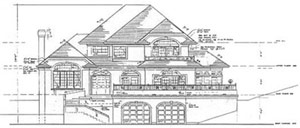 Peter Leighsmith was educated in London, England with a degree in architecture and subsequently graduated from Cornell University, USA in 1973 with a Masters degree in Design. After having travelled extensively throughout Europe, he gained architectural experience through working on larger residential developments and a health care facility in Toronto.
In 1980 Peter started his own business as Leighsmith Design. In 1981 he completed a course in Building Preservation Technology at the University of Victoria and has built upon his knowledge of period homes through renovating and in designing new homes, both luxury and low cost, in Vancouver, Toronto and Edmonton.
More recently he has worked with the Alberta Government and the City of Edmonton on historical projects in Edmonton and the surrounding area as well as participating in the Main Street Program for the City of Wetaskiwin. He has always maintained a small scale business in order to ensure a high level of personal service to clients.
He is a member of the Royal Architectural Institute of Canada, as well as the Edmonton and Sherwood Park Chambers of Commerce. The latter awarded Leighsmith Design "outstanding home based business" in 2000. Peter Leighsmith is also a member of the Architectural Association, London, England.